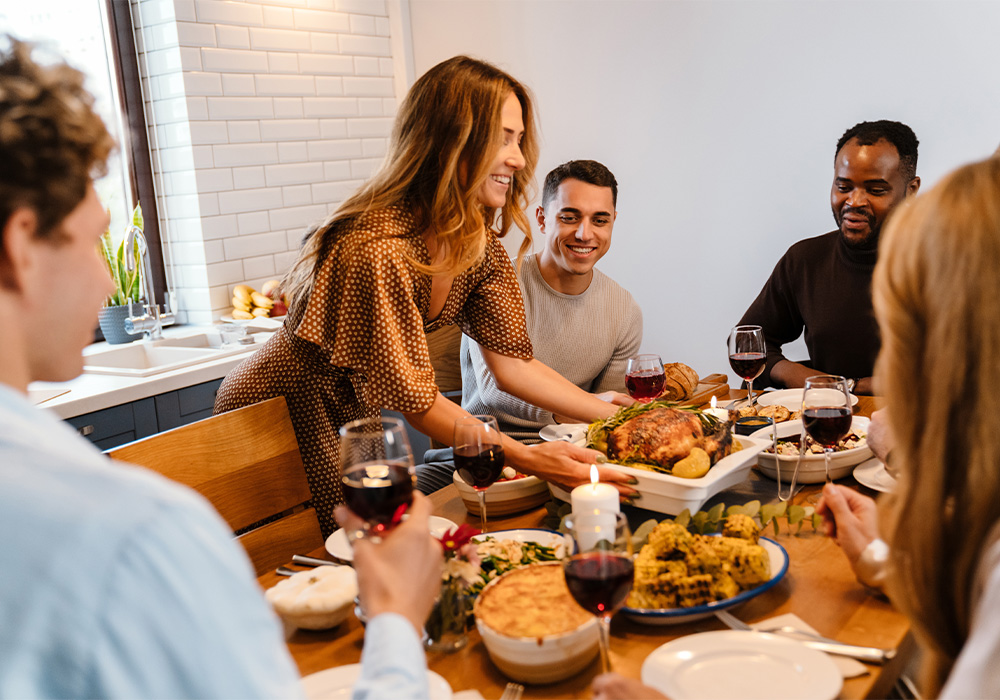 10 Creative Ways to Host Friendsgiving in Your Apartment
Friendsgiving is a wonderful way to celebrate gratitude and friendship during the holiday season. Hosting a gathering in your apartment can be a delightful and cozy affair. With a dash of creativity and thoughtful planning, you can create a memorable Friendsgiving party that isn't limited by your dining table space. Here are 10 creative twists to make your Friendsgiving in your apartment a hit:
1. Utilize Your Balcony
If your apartment has a balcony, consider using this outdoor space to expand your hosting area. Set up a cozy seating arrangement with outdoor-friendly decorations like string lights, cushions, and blankets. You could have a small table for drinks and appetizers, allowing guests to enjoy the crisp fall air while sipping a warm beverage.
2. Maximize Amenity Spaces
Make use of communal amenity spaces within your apartment building. Check if you can reserve a communal lounge, rooftop deck, or BBQ area for your Friendsgiving celebration. These spaces often provide more room to accommodate guests and offer a change of scenery from your apartment.
3. Potluck Friendsgiving and Recipe Exchange
Ask each guest to bring their favorite dish to share and a handwritten or printed recipe card to exchange with others. This way, everyone goes home with new culinary inspiration and a collection of delicious recipes!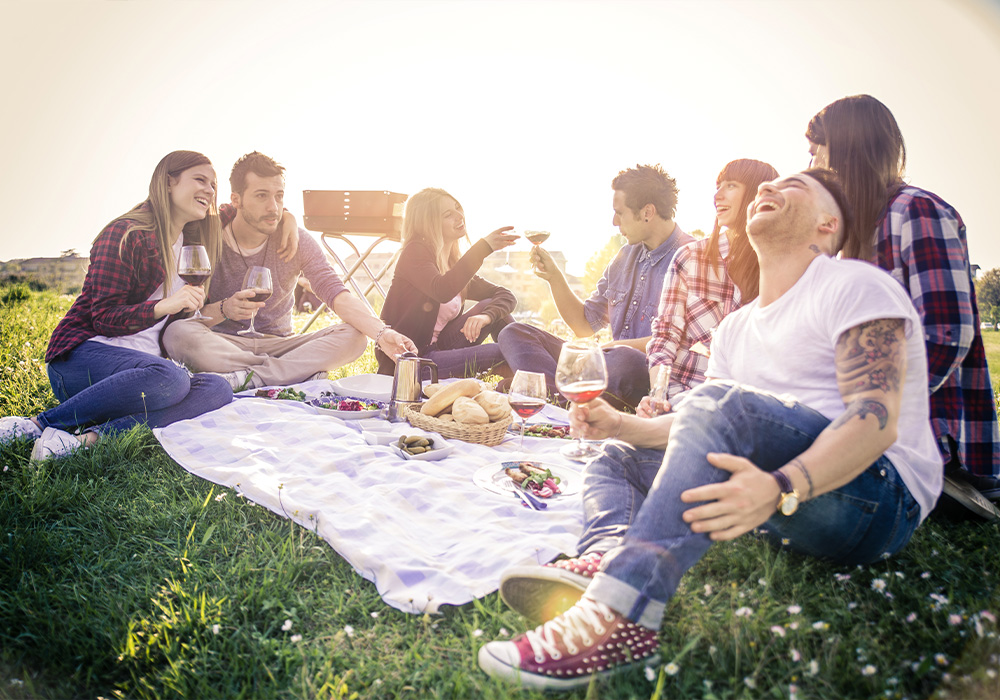 4. Indoor or Outdoor Picnic
If table space is limited, consider hosting a Friendsgiving dinner with a picnic twist. Lay out blankets and cushions in your living room or balcony, and ask guests to bring picnic-friendly dishes like finger foods, sandwiches, and salads. This relaxed setup encourages mingling and creates a laid-back atmosphere. If you have outdoor space or a nearby park and the weather is favorable, consider hosting an outdoor Friendsgiving picnic. Set up blankets, bring folding tables and chairs, and enjoy the crisp fall air with a delightful feast.
5. Cocktail Party Alternative
Opt for a cocktail party-style gathering with appetizers. Arrange a variety of appetizers on decorative trays or platters around the living area, making it easy for guests to grab a bite as they mingle. Serve a selection of signature cocktails, mocktails, and beverages to keep the party lively and engaging.
6. Thanksgiving Movie Marathon
Transform your Friendsgiving into a cozy movie marathon night. Set up a viewing area with comfortable seating, pillows, and blankets. Create a playlist of Thanksgiving-themed movies or classic comedies to keep everyone entertained while enjoying appetizers and snacks.
7. Gratitude Art and Crafts
Incorporate a creative activity into your Friendsgiving celebration by setting up an arts and crafts station. Provide materials for guests to create gratitude cards, artwork, or personalized ornaments they can take home as a memento of the gathering.
8. Themed Friendsgiving
Choose a fun theme to add a unique twist to your party. Whether it's a "Fall Harvest Brunch" theme, a "Pajama Party" theme, or a "Potluck Around the World" theme where each guest brings a dish from a different country, a themed Friendsgiving can make the event more exciting and memorable.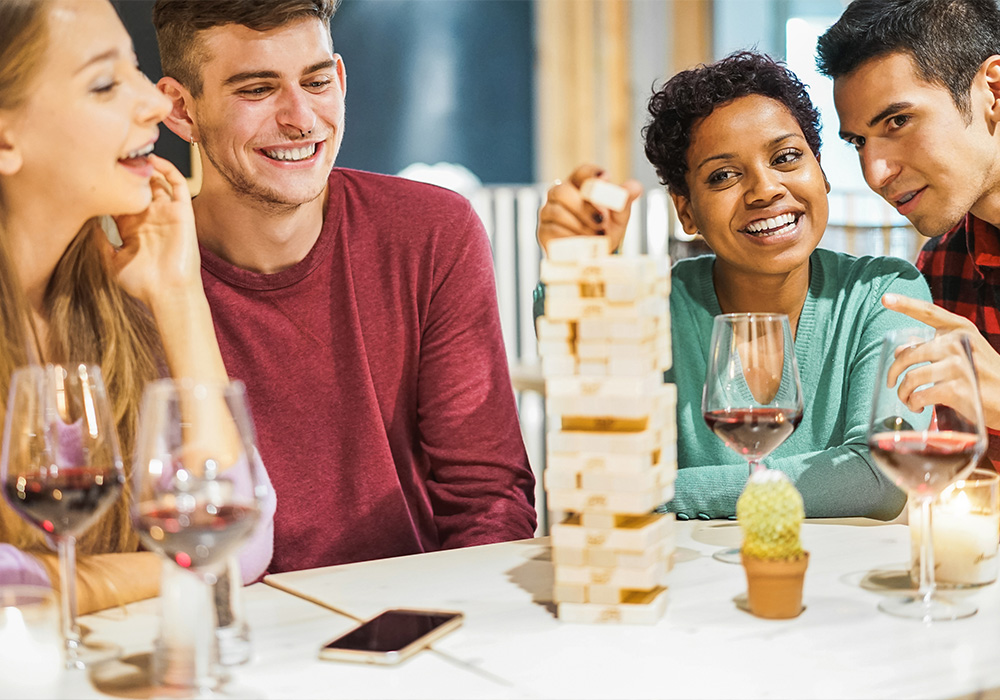 9. Interactive Games and Trivia
Host an interactive Friendsgiving with games and trivia. Choose Thanksgiving-themed games like a "turkey trot" scavenger hunt or a trivia quiz about the holiday's history and traditions. Prizes for winners can add an extra layer of excitement.
10. Charity Donations
Encourage guests to bring non-perishable food items or winter clothing to your dinner party to donate to a local charity. It adds a charitable aspect to your gathering and spreads the spirit of giving during the holiday season.
Remember, the most important aspect of Friendsgiving is the joy of being together, appreciating one another, and creating beautiful memories. Don't let small spaces hold you back from hosting the best Friendsgiving. No matter how you decide to celebrate, the heart of this time of year is the warmth and friendship that you share with your loved ones. Happy Friendsgiving!
Find Your Essex Apartment
Our apartment communities span from San Diego to San Francisco and the Pacific Northwest in some of the most sought-after locations on the West Coast. Whether you're looking for life in Los Angeles, settling down in San Jose, or relaxing in Oakland, we can help. Choose from bustling city life, quiet comfort in the suburbs, sun and sand at the beach, outdoor adventures, and a wide variety of on-site amenities and floor plans spanning studios to two-bedroom apartments to townhomes. Whatever your style and budget, we have a community that's right for you.