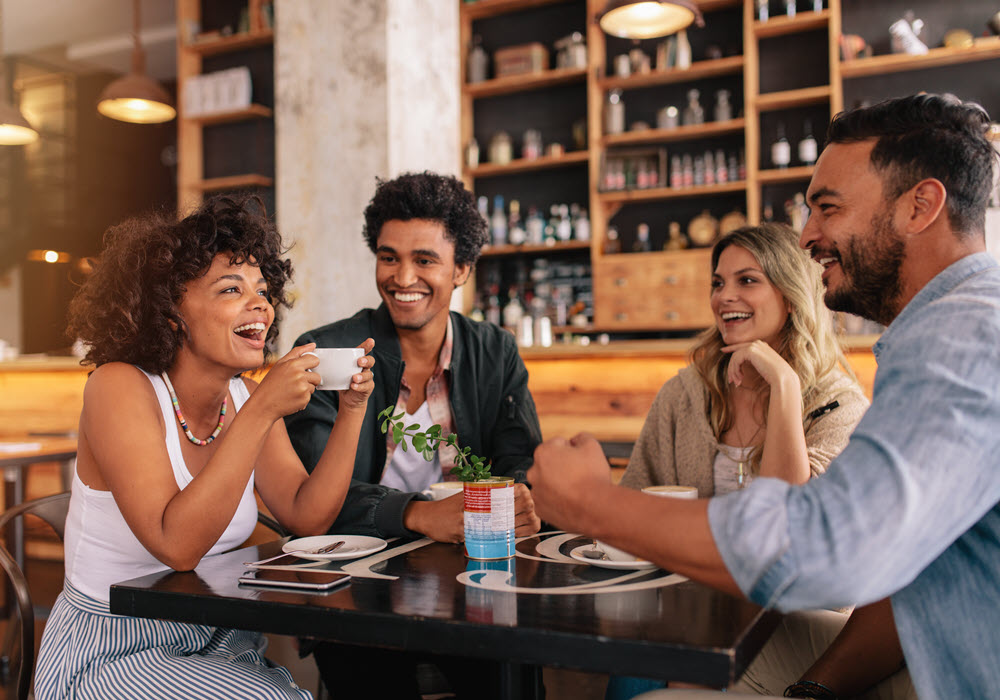 How To Make Friends in a New City
As if making friends isn't already difficult enough as an adult, adding a move to a new city into the mix may leave you feeling particularly discouraged and lonely. You're not alone, though. After a couple of years of limited social interaction, "it's clearer than ever that there is no substitute for genuine human connections," said Meetup.com CEO David Siegel in a company blog post. "For the first time, 'friends' was the top-searched term on Meetup. Instead of searching for groups and events based on topics like 'volleyball' or 'knitting,' people were looking for friendship." As a result, in the year through July 2021, there was a 157% increase in the number of friends-related Meetup groups created.
Try to look at your move as a new adventure! It can be an opportunity to start fresh with some of the activities you love (or even some outside your comfort zone) and a new group of people eager to do them with you. Check out these nine tips for how to make friends in your new city—you might just meet your next best friend.
1. Connect With Friends-of-Friends
Although you don't have any friends in your new city (yet), someone you know might have a connection there they could introduce you to. Perhaps your mom's best gal pal has a daughter in your new city, or your old neighbor knows a friendly couple in your new neighborhood. Ask for an introduction! Social media is great for this because word spreads quickly and introductions are made easily. Maybe one of your Facebook group friends used to live in your new city, or a LinkedIn connection has a friend-worthy client there.
2. Meet Your Neighbors
Another easy place to start is getting to know your neighbors. And if you live in an apartment complex, the close proximity and higher density of neighbors gives you a better chance of meeting people you click with. Some apartment communities, like many Essex properties, host events for their tenants, which can be a great opportunity to mingle with your neighbors.
3. Explore Your Local Area
Friends or no friends, you'll want to get out and explore your new town, but if you intentionally put yourself out there, exploring can also be a great way to meet people. Frequent different coffee shops or bars, check out your weekend farmers market, and visit local businesses that align with your interests. You may meet a fellow graphic designer working at your new go-to coffee shop or an avid hiker at your local outdoor outfitters.
4. Mingle with Co-workers
If you're moving for a new job, your co-workers are a natural place to explore new friendships. You'll spend the majority of your waking hours with them, and research has proven that most people meet new friends in the places they spend the most time. If your team is still working remotely, ask a co-worker to coffee or schedule a Zoom happy hour. Lastly, consider joining any of the clubs or groups established at your company. Larger companies, in particular, often have affinity groups or those with similar interests with regular meetings and events.
5. Get on the Apps
Not unlike dating apps, Bumble BFF, Patook, We3, Yubo, LMK, Peanut, Nextdoor, and others help connect you with like-minded people through simple yet intuitive interfaces and algorithms. "Our founder always envisioned a product that could facilitate relationships of all kinds. Bumble BFF is an accessible, empowering, and simplified way for people to find new friendships," a Bumble spokesperson shared with Essex. "[Since launching, we continue to see] evidence that people are looking for platonic relationships, from young professionals who've just moved to a new city to those who've found a romantic partner on Bumble Date but are now looking for new friends."
6. Join a Sports Team or Club
Rec sports leagues and group workout classes are a great way to meet friends, especially in metropolitan cities with vast social circles built around sports and exercise. From dance classes to adult soccer leagues to running clubs, friends and strangers get together for these common interests. "You meet strangers with sports as the common denominator," says Chin Kim, founder of Premier Social Sports in Orange County, California. "We hang out after games to get to know each other without the pressure or awkwardness of dating. Sports leagues like mine are particularly friendly to new players because [everyone is] very welcoming."
7. Volunteer
In addition to being an easy way to meet people in your new city, volunteering is a great way to fill your otherwise empty weekend while giving back to your new local community. Check for volunteer opportunities with local groups and causes that resonate with you, or search aggregated listings by location and interest on websites like Volunteermatch.org
8. Attend Meetups or Other Local Events
Whether it's one of the thousands of daily Meetup events or a get-together with a local interest group (think book club or foodie group), your new city is bound to have something for everyone. And if you're not comfortable meeting in person yet, there are many virtual events and activities. "Meetup is the leader in connecting people, fostering friendships, and building community," said Meetup's Siegel. "When Meetup brings people together over a common interest or to participate in an activity, we're providing them with a straightforward way to converse easily and connect authentically. Everyone at a Meetup event shares something in common, which is a clear starting point for new friendships."
9. Join a Church or Community Organization
Similar to a sports club or interest group, churches and community organizations bring people together over common interests and values. If religion or spirituality plays a significant role in your life, finding an organization that you align with can help you settle into your new town and make some great friends.
Find Your Essex Apartment
Our apartment communities span from San Diego to San Francisco and the Pacific Northwest in some of the most sought-after locations on the West Coast. Whether you're looking for life in Los Angeles, settling down in San Jose, or relaxing in Oakland, we can help. Choose from bustling city life, quiet comfort in the suburbs, sun and sand at the beach, or outdoor adventures and a wide variety of on-site amenities and floor plans that span from studios to two-bedroom apartments to townhomes. Whatever your style and budget, we have a community that's right for you.
Explore our nearly 250 apartments, such as Ascent or Slater 116 in the Seattle Metro area and learn more about current leasing or move-in specials and pricing.