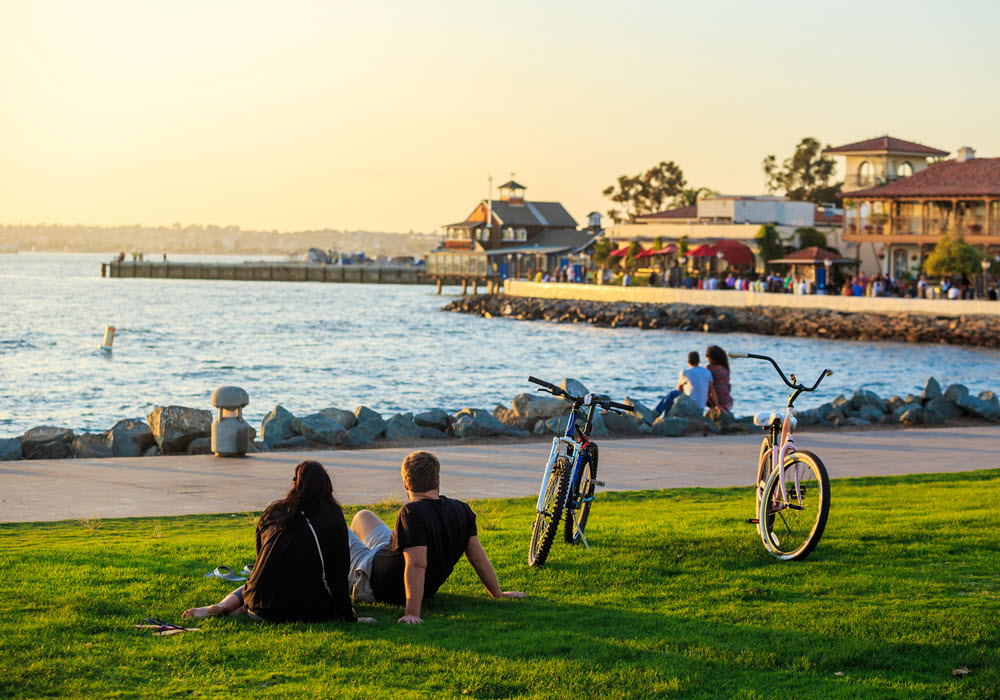 Best Time to Rent an Apartment in San Diego
There's never a bad time to visit San Diego, California. The weather is mild and sunny year-round. The city's beaches, arts and culture, craft beer scene, and fantastic Mexican food are unparalleled any time of the year, and the area's locale is one of the most sought-after in the nation. Where else in the world can you hop into your car and drive to Mexico, Los Angeles, San Francisco, Las Vegas, or Sequoia National Forest for a long weekend?
With more than 35 million people visiting the city each year, finding the perfect apartment to rent is a little easier at certain times than others. Here's a guide for how to time your move when you're looking to snag a new apartment in one of the most beautiful beachside counties in California.
Be Mindful of Tourist Season
While you could argue every season is tourist season in San Diego, the "summer months" of May, June, July, August, and September are notoriously busy. During this time, the influx of tourists drives rental rates up, as housing demand increases for short-term beach house renters and college students arriving for a new school year at one of San Diego's world-class colleges, such as the University of California, San Diego or San Diego State University. If you have some flexibility in your schedule, signing a lease sometime between November and February is best since the average rent during that time is lower than at peak season. Besides a rental market with lower prices, apartment hunting in the city is also less stressful in the winter since there is less traffic and fewer people.
Find Your Perfect San Diego Neighborhood
As you're considering your move to California's most southern county, it's a good idea to check out the diverse neighborhoods and the broader area before you settle on an apartment. San Diego proper has over one million people living in it, but San Diego County has over three million residents. The area is very spread out. Because of that reality, many San Diegans get around by car, which means traffic and parking can be a challenge. It's helpful to keep in mind where you'll be working and spending your free time when you're trying to find the right neighborhood.
In many ways, you can't go wrong. From Oceanside in North County to the cities nestled in the rolling hills and mountains of East County to the southern area of Chula Vista, every little neighborhood has its flavor and charms. There are apartment communities in each one. If you can, spend some time in the city before you settle on where you want to live. For many people dreaming of relocating to San Diego, the right time to move is when the right apartment opens up in your preferred location.
Do you enjoy spending time in art museums? In Balboa Park, The San Diego Museum of Art is a great destination for art lovers, and the San Diego Zoo® is a highlight for family-friendly activities. Into surfing? Pacific Beach, Oceanside or La Jolla might be your best bet. Once you settle on where you want to live in the city, you can start to hone in on the apartments available to renters there.
Come to San Diego Prepared
For your move to San Diego to go as smoothly as possible, you'll need to be prepared. Renting the perfect apartment requires money, a little luck, and documentation. Find out about the application process from the leasing or property managers in charge of the apartments and communities you're interested in ahead of time, so you can be sure to have everything they require when you're ready to put in an application. While every landlord is different, here are some things you'll likely need to bring with you or submit as part of the process:
Government-issued photo ID
Payment for the application fee
Income verification documents
Cash, money order, or a credit card to pay for the first month's rent and a security deposit
Pet deposit, if you have a four-legged friend moving in with you
Recommendation letter(s) from previous landlords
Again, not every landlord or apartment community will need all this proof that you'll make a good tenant, but it's good to be prepared for those that do.
When you do find the apartment you'd like to rent, ask questions! You don't want to misunderstand or assume anything. Your landlord or leasing specialist will be happy to help you.
Ask About the Specials
If you're able to look for an apartment during the slower winter months, be sure to ask about any leasing specials or deals. You may be able to secure a lower monthly rent than what is advertised. Occasionally, landlords also offer more lenient leasing terms. A shorter lease agreement can be beneficial to someone who has never been to San Diego before and doesn't yet know which part of the city or county most appeals to them. With a six-month lease, you can get a good sense of the area and either renew or move on when your lease is up.
Find Your Essex Apartment
Our apartment communities span from San Diego to the Pacific Northwest in some of the most sought-after locations on the West Coast. Whether you're looking for life in Los Angeles, settling down in San Jose, or relaxing in Oakland, we can help. Choose from bustling city life, quiet comfort in the suburbs, sun and sand at the beach or outdoor adventures and a wide variety of on-site amenities and floor plans that span from studios to two bedroom apartments to townhomes. Whatever your style and budget, we have a community that's right for you.
Essex has apartments throughout San Diego and San Diego County. Whether you're looking for something like Alpine Village in Alpine, Bonita Cedars in Bonita, Pinnacle at Otay Ranch in Chula Vista, Form 15 in East Village, Mission Hills in Oceanside, or Shadow Point in Spring Valley, we have something for you. Explore our nearly 250 apartments and learn more about current leasing or move-in specials and pricing.