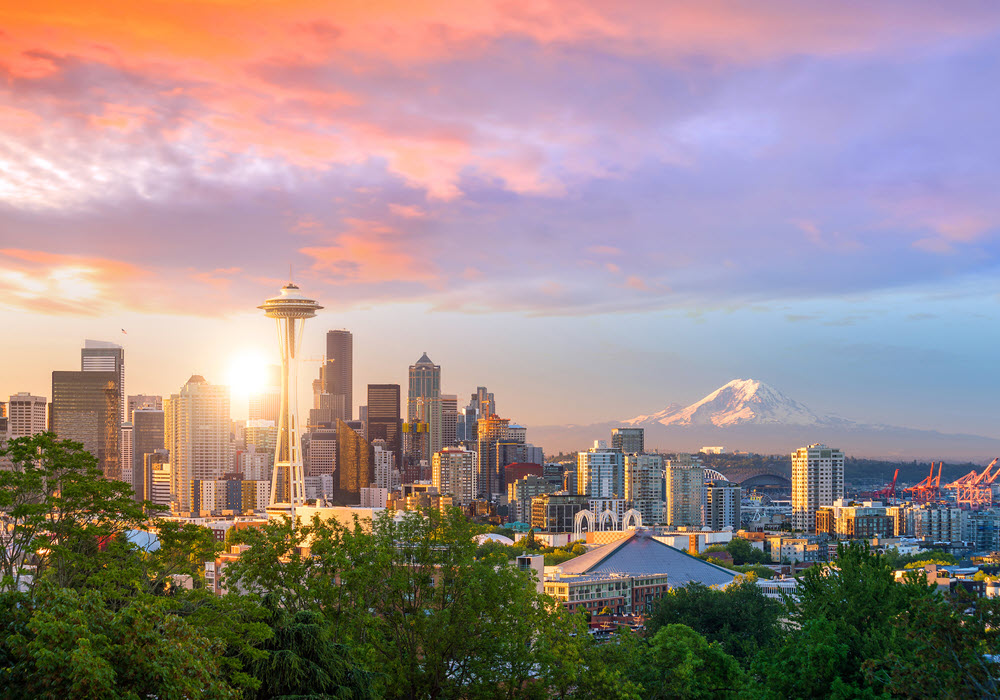 Renting vs. Buying in Seattle
Is it better to rent or buy a home? For years, this has been a hotly debated question. In Seattle, the market is split relatively evenly between renters and homeowners. The decision is personal and depends on several factors, such as your finances, your desire to stay long-term in the area, and where exactly you want to live. To help you make your decision, we are sharing why you might decide to rent or buy in Seattle.
Three Great Reasons to Rent in Seattle
Financial Flexibility
It is often assumed money is the main difference between who rents and who buys in Seattle, and in some instances, that is true. Seattle's cost of living is on the higher side for the U.S., only slightly lower than prominent cities like New York, San Francisco, and Los Angeles. Purchasing a home in Seattle is out of reach for many. After all, according to Zillow, the median home price in Seattle is over $850,000.
Still, many people with the money to buy a home choose to rent because of the financial flexibility it affords them. Perhaps you want to live among the bustling nightlife of Belltown right now, but in five years, you may want something a bit more serene after dark. Renting an apartment in Belltown is one way to ensure you will get what you want right now, but if your lifestyle changes, you won't have to go through the complexities of selling a house to move elsewhere.
There are also the added costs of homeownership that tie up your money more than renting would, such as property taxes, maintenance and repairs, and homeowner's insurance. While it's wise to have renters insurance coverage as a renter, if not required, the cost is significantly lower than homeowner's insurance so, you'll have more money to spend elsewhere.
Carefree Maintenance
Every house or apartment will need repairs throughout its lifetime. Some will be expected; others will not. When you rent, routine maintenance issues and surprise repairs can still affect you, but only to a small degree. Your property manager will be the one responsible for solving, scheduling, overseeing, or paying for any repairs.
When you buy a home in Seattle, the responsibility of home repairs and maintenance will be yours. If you do not want to add overseeing or performing handyman services to your list of hobbies — not to mention paying for those services — renting in Seattle will suit you. If you choose to rent in an Essex Apartment community, maintenance will be a breeze. Our maintenance teams are available for service requests should anything need repair, and the Essex Resident Portal or mobile app, allows residents to submit requests 24/7.
The Lifestyle
Depending on the house or apartment you rent, renting can potentially afford you a more luxurious, comfortable, and convenient lifestyle. Many apartment buildings offer convenient amenities homeowners would have to travel away from home to enjoy. Many of our Essex Apartments in Seattle provide stunning views of the city, rooftop terraces, smart home technology, dry cleaning services, and fitness centers — and that's just the shortlist! Community living is one of the treasured benefits of renting for many Seattle residents.
Three Great Reasons to Buy in Seattle
Investment
Buying a home in Seattle may not be an option for everyone, but it can be a worthwhile investment for those with both the credit and funds available to do so. Home prices in Seattle have been steadily increasing for decades, which means, even if the current market cools or slows down in the near future, it's unlikely prices will ever plummet in a city where so many want to live and work.
Choose Your Own Aesthetic
One main perk of owning a house is the freedom to do what you want with it. Whether it's painting the walls, tiling the bathroom, expanding the kitchen, or adding on a deck, homeownership offers many options to recreate your space as you see fit. Renting rarely affords such flexibility. However, it is important to remember that updating and transforming your home isn't just a creative endeavor. Changes to your home can quickly become costly.
Cost of Living Control
Rents and home prices change over time, and for the most part, they rise. For many residents of Seattle, locking in a monthly mortgage is one way to control their cost of living. If home prices and rents go up, they are largely unaffected. Of course, there is still the possibility home prices and rents might go down. In which case, renters will be able to enjoy a lower cost of living. Someone who buys a home in Seattle will pay the same amount for their home — plus the interest their loan accrues — regardless of what the rest of the market is doing.
Given that both renting and buying in Seattle have their benefits and possible negatives, what's the right thing to do?
The Tiebreaker: Location
Location is the biggest factor for most people selecting a place to live in Seattle. For example, many Seattleites work downtown and want to live in a neighborhood like Queen Anne or South Lake Union, while others want to be close to nightlife and entertainment in Capitol Hill. With the real estate market currently favoring sellers, many potential buyers are priced out of these in-demand neighborhoods.
The choice then becomes: Should I buy in a less desirable location or rent in an area close to the heart of the city? Being in an excellent location close to entertainment, dining, and cultural experiences has great appeal for many city dwellers. If your budget does not allow you to buy a home in your preferred area, consider renting in the location of your choice!
Essex Has Your Ideal Location
Offering 56 apartment communities in the Seattle Metro area, Essex makes it easy for you to find a location and apartment home that perfectly suits your needs. Fountain Court and The Audrey are conveniently located and offer amenities such as fitness centers and swimming pools. If you prefer to be close to the eclectic eateries and bohemian vibes of Fremont, Velo and Ray offers urban-inspired studios, one- and two-bedroom units.
The Seattle area is a fantastic place to rent or buy a home. The beauty of the city, the proximity to nature, and the progressive and diverse culture make it one of the most sought-after locations in the Pacific Northwest. Experience upscale living in some of the most desirable locations Seattle has to offer at one of our Essex Apartment Homes.
Find Your Essex Apartment
Our apartment communities span from San Diego to San Francisco and the Pacific Northwest in some of the most sought-after locations on the West Coast. Whether you're looking for life in Los Angeles, settling down in San Jose, or relaxing in Oakland, we can help. Choose from bustling city life, quiet comfort in the suburbs, sun and sand at the beach, or outdoor adventures and a wide variety of on-site amenities and floor plans that span from studios to two-bedroom apartments to townhomes. Whatever your style and budget, we have a community that's right for you.
Explore our nearly 250 apartments, such as Pure Redmond or Redmond Hill in Redmond, Washington, and learn more about current leasing or move-in specials and pricing.