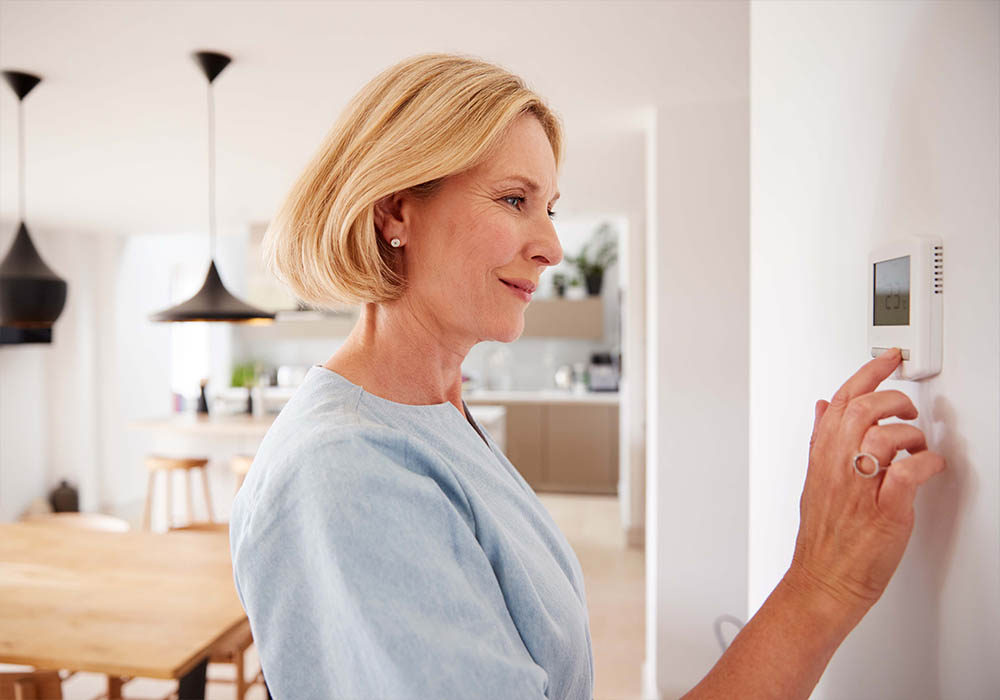 7 Ways to Reduce Winter Heating Costs
We have all heard the advice to turn down the thermostat to save on heating costs and save money during the colder winter months. According to the U.S. Department of Energy, for every degree you lower the thermostat, you'll save one percent on your energy bill. As this current "season of shivers" approaches, increased costs can take a bite out of your budget. Fortunately, there are several ways to help reduce your heating bill without drastic measures. Here are some tips to help make this winter's energy costs less painful.
First, let's review why heating bills increase during the winter.
Temperature Differences- As the outside temperature falls in winter, we naturally want to be warmer inside our homes, which is why we begin to set our heating systems to warm things up. This in turn requires your furnace to work harder because of the differences between indoor and outdoor temperatures.
Inadequate Insulation- Oftentimes, poor insulation can lead to heat loss caused by air leaks in windows sills or unsealed doors. This requires you to operate your heater more often or at a higher thermostat setting to maintain your preferred amount of warm air and comfort level, which will, unfortunately, increase your heating bill.
Improper Thermostat Setting- A higher thermostat setting will lead to higher heating costs. Lowering your thermostat by just a couple of degrees can help you save on your heating costs throughout winter. One solution to maintaining a consistent thermostat setting is to install a programmable thermostat or Smart Thermostat. Several Essex communities, such as The Trails of Redmond, Lawrence Station, and Expo, highlight Essex's overall commitment to sustainable living, and each community features apartments that include Smart Thermostats. Now, let's look at some specific money-saving tips.
1. Let the Sun into Provide Passive Solar Heating
One way to offset the higher cost of utility bills, especially heating costs, is to open your window coverings and let all the natural sunlight in to warm your apartment. Then, close your curtains at night to trap in the heat. Passive solar heating is not new and allows you to collect, absorb, and distribute solar energy right through your existing windows. Using materials that hold onto heat during the day and disperse it at night, you can help keep your apartment comfortable 24/7, even in areas that normally become cool.
2. Use a Space Heater for Select Rooms
You can improve energy efficiency and home heating with space heaters, which offer convenience and room-to-room flexibility. Space heaters are an ideal, low-cost solution for rapid, cold weather warmups for those rooms that seem to get cold every winter and a smart alternative to costly central heating for your entire apartment. Oscillating tower heaters are an effective way to distribute heat throughout a smaller room. In contrast, a ceramic heater is ideal for warming up a smaller, specific space that does not get much, if any, central heat.
3. Adjust Your Air Vents for Maximum Airflow
Properly regulating your vents helps enhance airflow and is another way to help reduce winter heating costs. Most homes and apartments have forced HVAC systems, and in many of these, there are air vents at both the ceiling and the floor. Ensuring these air vents are open properly lets you easily control the circulated warmer air for each room. For example, if you have a room you don't use much, you can close off those floor or ceiling vents, so warmer air is redirected to rooms you often use.
4. Check and Clean Your Air Filter Regularly
Changing or giving your air filters a tune-up with a good clean is one of the easiest ways to reduce your heating bill this winter. Dirty or clogged filters restrict the flow of heated air, and it's simple and inexpensive to replace dirty or clogged filters. It's easy to ignore or forget to check filters regularly. Try setting an alert on your smartphone so you're reminded at least 3-4 times a year to check the air filter.
5. Consider Installing Heavier Drapery
Curtains and blinds can make a significant difference in your home's temperature while helping to save you money during the colder winter months. Thicker, heavy curtains help provide cooler temps in the summer and warmer temps in the winter. Along with various designer, trend-forward tones and fabrics, like heavy linen or velvet, drapery is highly energy efficient.
6. Lower Your Water Heater Temperature
Do you remember the last time you adjusted the temperature of your water heater? Lowering your water heater temperature is one of the best ways to reduce your winter heating costs and increase energy savings. Some manufacturers, by default, set the water heater temperature to 140-degrees Fahrenheit, according to the Department of Energy. However, this can lead to issues, such as mineral buildup or corrosion. In general, most homes or apartments only need the water heater at 120 degrees Fahrenheit.
7. Layer Up Your Clothing for a Quick Warmup
While you've probably heard this repeatedly, adding another layer of clothing is still an extremely cost-effective way to help keep winter heating costs down. From a crewneck sweater to a light sweater vest, or some cozy slippers, you can add a light layer that will keep you comfortable and allow you to lower your thermostat a couple of degrees.
Find Your Essex Apartment
Our apartment communities span from San Diego to San Francisco and the Pacific Northwest in some of the most sought-after locations on the West Coast. Whether you're looking for life in Los Angeles, settling down in San Jose, or relaxing in Oakland, we can help. Choose from bustling city life, quiet comfort in the suburbs, sun and sand at the beach, or outdoor adventures and a wide variety of on-site amenities and floor plans that span from studios to two-bedroom apartments to townhomes. Whatever your style and budget, we have a community that's right for you.
Explore our nearly 250 apartments, such as The Village at Toluca Lake in Burbank or Tierra Vista in Oxnard, and learn more about current leasing or move-in specials and pricing.