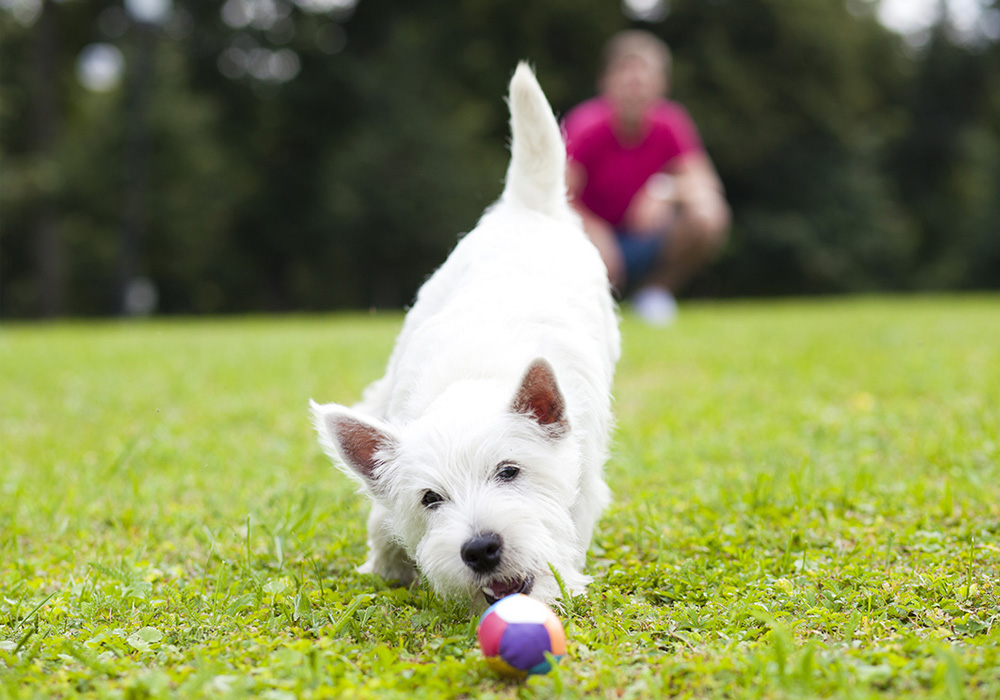 Do's and Don'ts at Apartment Community Dog Parks
With dog ownership on the rise and many individuals working from home, running paths, hiking trails, dog beaches, and dog parks have seen heightened activity. Regular exercise is one of the most important responsibilities of owning a dog, especially if you live in an apartment. A smaller space with no access to a yard makes it hard for Lucky the Labradoodle to burn off her energy and get the exercise she needs.
Fortunately, many cities and even apartment complexes are putting a greater emphasis on pet-friendly apartment amenities, including dog parks. But before you let Lucky loose in your neighborhood dog park or the convenient dog run in your apartment community, there are several best practices to follow to ensure a positive experience for everyone.
Clean Up After Your Dog
While this tip may seem like a no-brainer, you'd be surprised to see how many people don't clean up after their dogs on walks and at dog parks. Not only is it common sense and common courtesy to bag up and throw away your dog's poop, but it also helps prevent spreading disease or parasites among dogs. Many dog parks provide doggie bags, but it's best to bring backup.
Give Each Other Space
Even when not in the throes of a pandemic, it's best to give other dogs and dog owners ample space where possible. It's particularly important to give space when other dogs are entering through the access gate, so they have time to ease in without being overwhelmed. It's also a good idea to check with other pet owners before letting your dog engage once inside. Even if your canine friend is friendly, others might not be. According to Ty Brown, dog behavioral expert, and owner of dog training business Ty the Dog Guy, avoid introducing dogs "nose to nose on tight leashes. The tight leashes add an enormous amount of stress, which leads to posturing, anxiety, and other behaviors that [can cause] a fight." Believe it or not, he says taking turns with three-second sniffs of their rear ends is a more positive introduction.
Play Nice
If your furry friend doesn't play well with others, it's best to avoid dog parks completely. But even if your dog has good manners, you still need to maintain control, so the play doesn't become too aggressive or destructive. If you're a new dog owner, it's best to learn about your dog's personality and behavior before going to a dog park. Start with a leashed walk, says Brown, and "observe how your dog views other dogs that are behind fences or walking with their owners. If you see aggressive or anxious behavior, this is your first indication that you might have a problem." But if the first test goes well, he recommends going on a walk with another dog owner. "Don't let the dogs interact; just walk," he clarifies. "See if your dog can fall into a rhythm near another dog. Movement together is one of the least threatening ways for dogs to interact."
Always Maintain Control
It goes without saying that you should never leave Fido unattended in a dog park or on any apartment complex property. That doesn't mean you have to be a helicopter pet parent, but you should always have your dog within eyesight and voice command. So, save Instagram or gossiping with your dog-mom friend for another time so you aren't distracted and can intervene if needed. Don't ever reach into a dogfight, but be prepared to move your dog away from play if his body language indicates he's uncomfortable or feels threatened, Brown says. "Nearly all fights are avoidable if dog owners pay attention to their dogs' needs and what they are 'saying.'" If a fight does break out, try distracting with a noisy object or clapping loudly, splashing or spraying water if you have access to it, or lifting and pulling both dogs away at the hips.
Stay Hydrated
Especially in warm climates or summer months, your dog will get thirsty after all that running and fetching, so make sure you bring plenty of water and a portable bowl. Although some dog parks have a community water bowl or fountain, they pose the risk of spreading disease among dogs.
Keep Your Dog Healthy
While not all dog parks require your furry friend to be vaccinated, it's important to stay up-to-date on vaccines and parasite control to protect your dog from disease and infection. If your pooch is under the weather, it's best to avoid the dog park completely to avoid spreading to other dogs. Dogs younger than six months should also stay clear of the dog park.
Follow Posted Rules
If your community dog park has its own set of posted rules, it's important to follow them. These may include hours the park is open, areas where dogs are not allowed, vaccine requirements, and dog breed restrictions.
If you're already living in the pet-friendly apartment of your dreams, then check with your local parks and recreation department for more information on dog parks and off-leash areas in your city. Or, if you're on the hunt for a pet-friendly apartment home, consider one with an on-site dog run or park and pet-washing stations, such as one of Essex's many West Coast apartment communities that welcome pets. Essex properties have long made apartment living with pets feasible, with flexible apartment pet policies and top-notch pet amenities for its residents.
Find Your Essex Apartment
Our apartment communities span from San Diego to San Francisco and the Pacific Northwest in some of the most sought-after locations on the West Coast. Whether you're looking for life in Los Angeles, settling down in San Jose, or relaxing in Oakland, we can help. Choose from bustling city life, quiet comfort in the suburbs, sun and sand at the beach, or outdoor adventures and a wide variety of on-site amenities and floor plans that span from studios to two-bedroom apartments to townhomes. Whatever your style and budget, we have a community that's right for you.
Explore our nearly 250 apartments, such as Fountain Court or Wharfside Pointe in Seattle, WA, and learn more about current leasing or move-in specials and pricing.