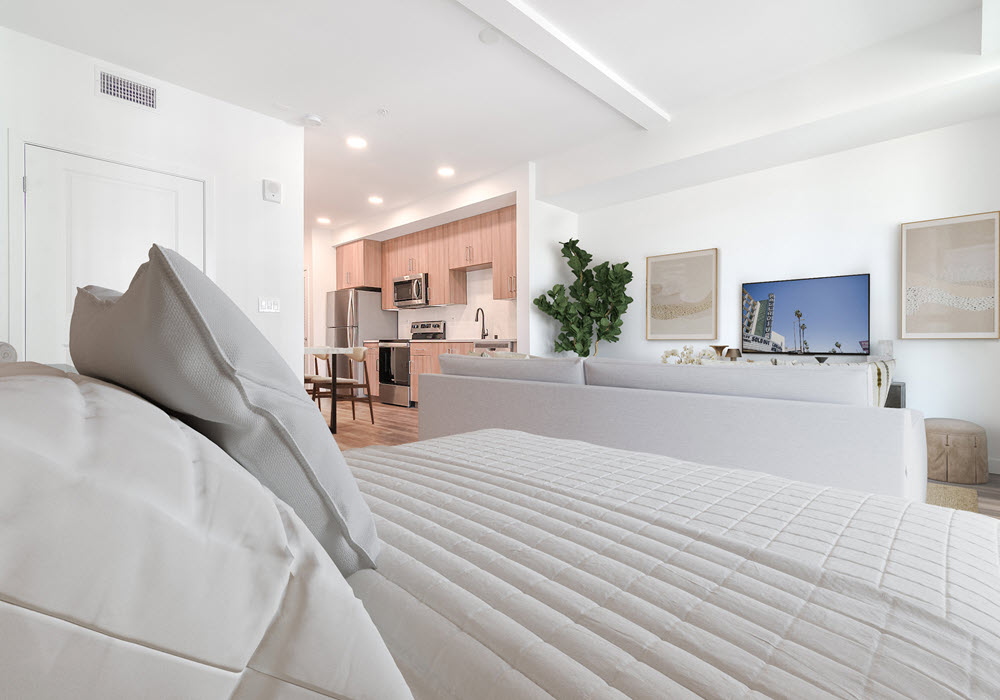 How to Divide a Studio Apartment into Multiple Rooms
When it comes to interior design, it's about making the most of your space. But for studio apartment interiors, in particular, it's really about space. You're working with less square feet and want to get the most out of it. Regardless of the square footage – of course more is always better – a typical studio apartment layout consists of one main room and bathroom. So, without furniture or décor, you may not know where to begin to maximize the functionality of your home.
"The challenge in a studio apartment is to create separate zones while keeping the space generally open to allow light throughout and give a feeling that the room is larger than it is," explains Beth Perry, Principal Designer at Colorado architectural and interior design firm Chora Studios. With a bit of creativity and the perfect props, you can make the most of your small space to create an elegant multi-room apartment in no time.
Before diving into studio apartment design ideas, there are a few steps to take.
Ditch the Clutter
This may seem obvious, but when you're limited on space, the last thing you want are walls and surfaces brimming with clutter. Not only does this take away from the intentional spaces you're creating in your one-room apartment, but it also makes the overall area feel smaller.
Envision a Floor Plan
Based on the layout of your studio apartment, the location of the windows and doors, the built-in lighting throughout, and the placement of cabinetry and appliances, there may be natural places for each "room." Start by envisioning the spaces you want to create - dining room, bedroom area, living room - and mentally mapping it out. This includes creating entryways and walkways that allow fluid movement through the spaces. From there, you can buy or allocate appropriate furniture and décor for those spaces.
Decide Each Room's Function
Part of mapping out those spaces is determining their function in your single-room apartment. For instance, will you primarily be eating, working or sleeping in the area? "Create spaces with groupings of furniture to make it very clear the function you desire in that section of your studio," explains Alex McKay, an international interior designer and founder of Scotland-based AM.spaces. "Allow these groups to anchor the activity you want for that space."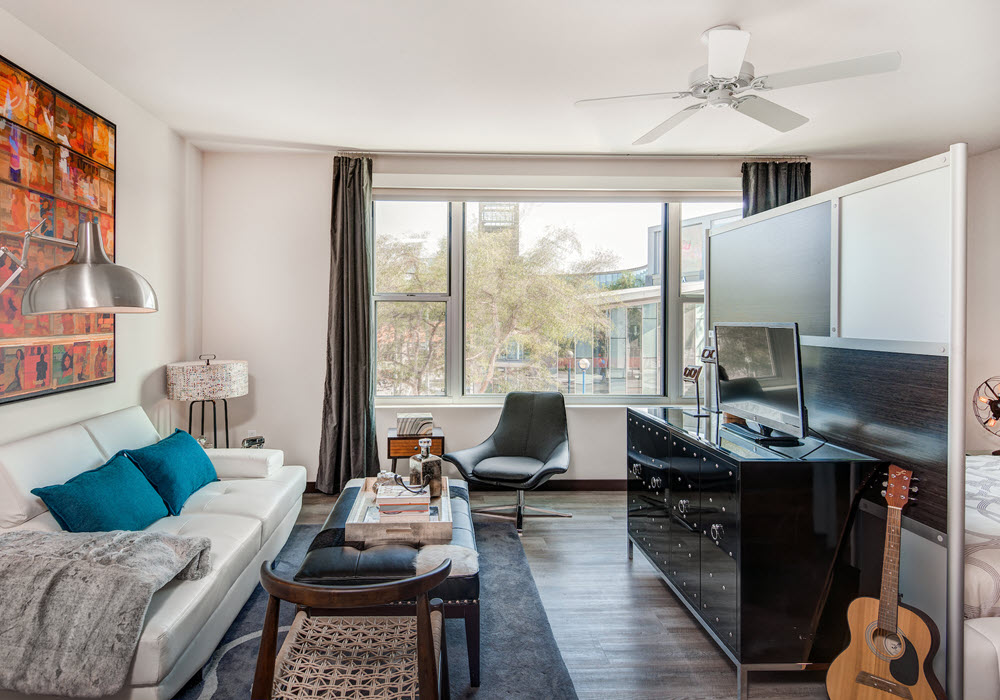 Here are a few ways to decorate a studio apartment to get the most out of your limited space and turn an open floor plan into several distinct spaces.
Be Strategic with Furniture
As McKay explained, individual or grouped pieces of furniture can set the tone of the spaces and make it clear what purpose each serves in your one-room apartment. Additionally, specific pieces of furniture can serve multiple purposes, create natural walls and walkways, and pack up for space-saving perfection. A loft bed keeps the bedroom off the main floor, while a Murphy bed, futon, or convertible sofa can be tucked away during the day to provide additional floor space. A bar cart or floating island can be used to set off the kitchen while creating valuable counter space. And McKay uses a vintage bar cabinet with a fold-down table as a space-saving desk.
Create Walls
While you might want to pull out your tools and build a half wall or install sliding doors, those aren't going to be viable options for renters of a studio apartment. So other room separator ideas include bookshelves and other types of shelving units, curtains and foldable room dividers. Placing tall bookcases perpendicular to a wall automatically establishes two separate rooms, while also creating valuable storage space and making your ceiling look higher. A curtain rod or track mounted to the ceiling breaks up and softens a larger space and helps to dampen sound a bit, says McKay. She suggests moveable room dividers for designating a home office and "concealing your work computer and the endless tasks tapping on your shoulder" that have become commonplace during COVID-19's work-from-home arrangements.
Think Function and Versatility
When you're working with limited space while also avoiding clutter, multifunctional pieces are the way to go. "It's important to find furniture and accessories that can be flexible and shifted from one zone to another," says Perry. "As these pieces move around the studio apartment, they can shift the focus from the bedroom to a sitting and gathering space, to a work zone." Furniture with built-in storage is also of high value. Consider an ottoman or a couch with storage compartments underneath or a platform bed with built-in drawers. Any piece that provides extra storage will be an asset as you determine the ideal layout for your living areas.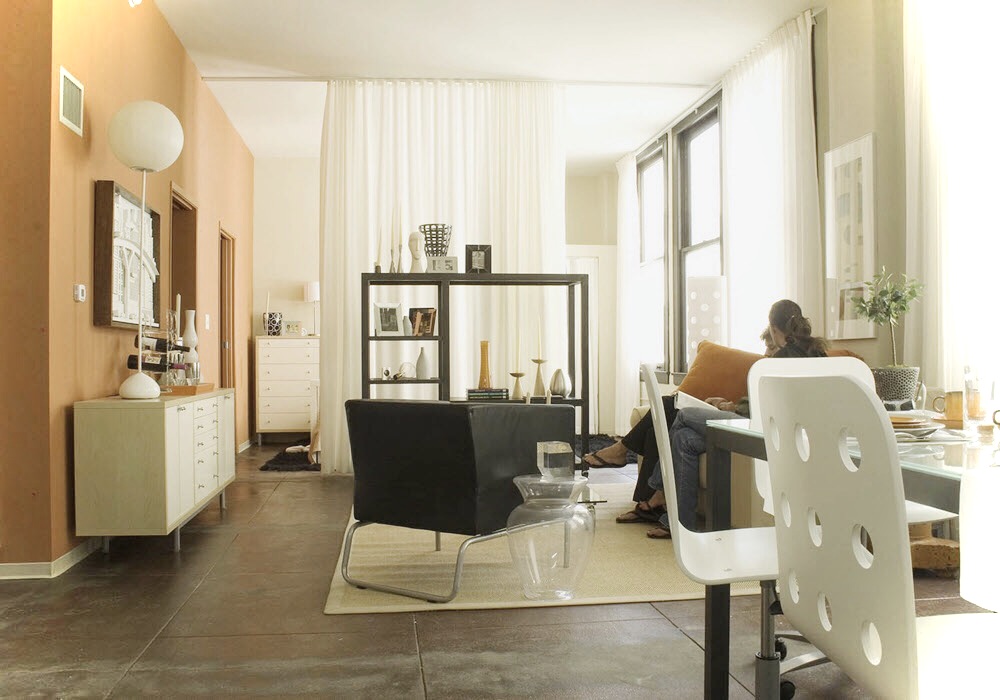 Add Some Color
Colors, tones, and patterns are great for creating visual division among spaces and can complement the other ways you choose to divide your apartment. "Painting your cooking walls different to your sleeping walls and different again to your working walls is an easy solution that is also easy to change over time," says McKay, "particularly for renters who may need to return the property to its original state." To avoid making the spaces feel dark and cramped, use light colors on walls.
Essex residents can add one or more accent walls to their apartment home using one of 12 select colors with the Essex White to Wow program. There are four inspiring color palettes available at select communities, including Cool-Downs, Boho-Chic, Shades of Gray, and The Neutrals-Pastels.
Leverage Lighting
Supplementary lighting is an easy way to create intentional spaces in a small studio apartment. A table lamp can spotlight a workspace, while a down-light floor lamp spotlights a reading nook. Many light fixtures can even be replaced to swap in more functional lights and add your own flare. When adding furniture and makeshift walls, avoid blocking any natural light from windows to make your apartment feel bigger and more open. Similarly, mirrors are a great way to transfer light and create the illusion of a bigger room.
Roll Out a Rug
With function and color in mind, rugs can help bring everything together in each specific space as you consider the décor within your studio apartment. "Definition of different spaces is easily achieved by using area rugs to create islands of functions," McKay says, suggesting a thick rug beside the bed, a flat-weaved rug under the dining table, and a short-pile, patterned rug in the living room. "Each change of texture in the flooring will signify a different function."
Find Your Essex Apartment
Our apartment communities span from San Diego to the Pacific Northwest in some of the most sought-after locations on the West Coast. Whether you're looking for life in Los Angeles, settling down in San Jose, or relaxing in Oakland, we can help. Choose from bustling city life, quiet comfort in the suburbs, sun and sand at the beach or outdoor adventures and a wide variety of on-site amenities and floor plans that span from studios to two-bedroom apartments to townhomes. Whatever your style and budget, we have a community that's right for you.
Explore our nearly 250 apartments, such as Foster's Landing in Foster City or The Promenade at Marina City Club in Marina del Rey, and learn more about current leasing or move-in specials.