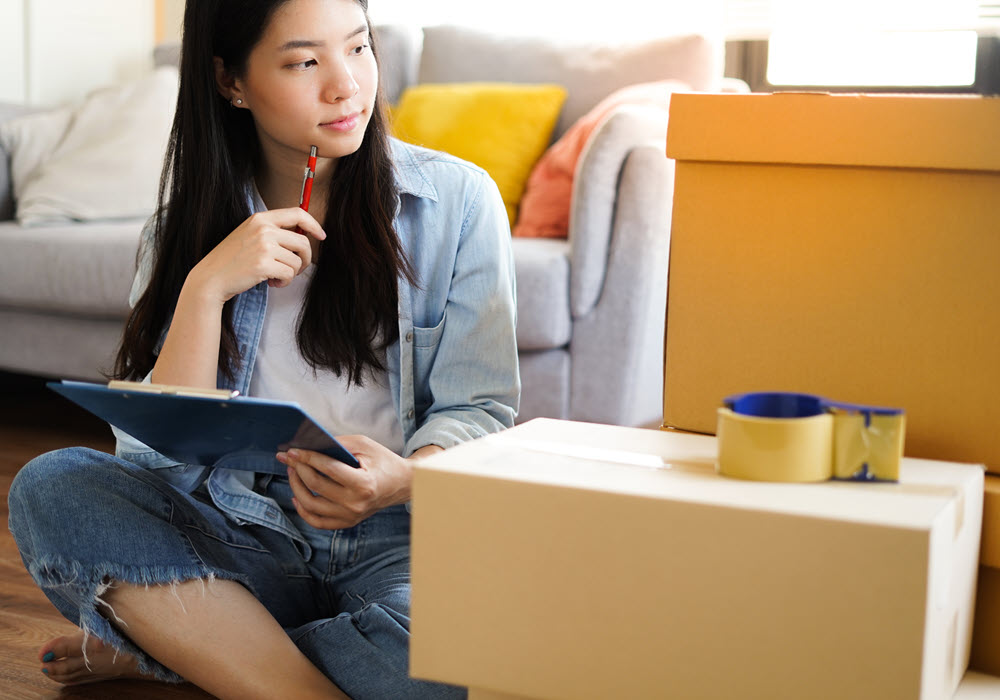 College Apartment Essentials Checklist
Leaving your parents' home or your college dorm for your first apartment is a significant life event. It's an exciting and perhaps overwhelming experience – even if you decide to share your space with a roommate – because you are taking a new responsibility. To minimize the stress of planning for your first apartment home, it's helpful to focus on the basics to make your space functional while still feeling homey! We've taken the guesswork out of the process with this handy college apartment essentials checklist.
Where to Begin
Start by checking your credit score first. It's standard for property management companies to request documents during the application process that will allow them to vet you as a prospective tenant and prove your financial stability. Once your credit score and report have been reviewed, the property management team will consider if you can sign a lease on your own or if you'll need a co-signer such as a roommate or a parent.
If you're used to living with a big family or moving from a dorm room, then the idea of a shared living space may already be second nature to you. If not, consider the benefits of living with a roommate, including splitting the cost and responsibility of rent, utilities, and apartment essentials. Whether a coworker, friend, family member or someone new, you'll want to find a roommate whose lifestyle meshes well with yours to create a harmonious and respectful living environment.
Make a list of your wants and needs, including quiet time for schoolwork or your job, level of cleanliness, communication skills, follow-through, and reliability. Do you want someone who is calm and sticks to themself? Or are you looking to make a new friend to spend time with and make dinner together? For more tips, check out our complete guide to finding the perfect roommate.
Essentials for Your New Apartment
It's time to prepare for the actual move! You're probably going to want some new items for your first college apartment, but moving doesn't have to come with big financial surprises. Finding a few essentials for each room can make your college apartment feel like home sweet home in no time.
Bedroom Essentials: Start with the bedroom necessities, including dressers and bedroom furniture, a new mattress and mattress pad, sheets and pillowcases, storage containers for under your bed, and more. You'll also want a desk and chair because you can't do all your studying on campus!
Living Room Essentials: In the living room, you'll need a couch, coffee table and end tables, an area rug to warm up the space if you have hardwood floors, a tv stand for your television, along with the log-in details to your favorite streaming service. Framed pictures and wall art also help to add a touch of home, as do pillows and throw blankets. We also recommend having a charger, power strip, and extension cord available so your devices can charge and stay plugged-in when needed.
Bathroom Essentials: Bathroom essentials include a shower curtain, small trash can, a toilet plunger and brush, door rack, bathmat, and a shower caddy if you don't plan to keep your personal toiletries like your toothbrush and toothpaste in the bathroom all the time. You may also want to add an organizer for drawers or turn your bathroom into a spa with these unique bathroom items.
Kitchen Essentials: It's easy to get carried away in the kitchen with fancy appliances like air fryers and automatic peelers. First apartment kitchen essentials include a set of dishes, glassware, silverware, pots and pans, a strainer, coffee maker, toaster oven, can opener, bottle opener, and a microwave.
Cleaning & Laundry Essentials: Any new apartment college move-in checklist requires cleaning items. Start with cleaning supplies that can be used on multiple surfaces, a broom, dustpan, mop, and vacuum, as well as a well-stocked toolkit and a first aid kit. If you plan to do your own laundry, you'll want to have a sturdy laundry basket, laundry detergent, and fabric softener for doing your wash, in addition to a drying rack and hangers for drying.
Essex Apartments Near Universities
Just because you're living off-campus doesn't mean you want to miss the full college experience. Save time, money on transportation, and energy running back and forth by living near campus. Consider the following Essex Apartment Homes and their proximity to popular universities.
For college students in the Pacific Northwest, Taylor 28 and Annaliese are a third of a mile from Antioch University Seattle. Gorgeous Cedar Terrace in Bellevue is just over a mile and a half away from Northwest University in Kirkland and Pinnacle Sonata just over two miles from University of Washington Bothell.
If your studies take you to Northern California, luxurious Park West is just a mile and a half away from University of San Francisco. Alternatively, Fourth & U is just over two miles from University of California, Berkeley off University drive and 101 San Fernando is practically within walking distance of San Jose State.
In Southern California, Haver Hill is under a mile away from Cal State Fullerton, and Bellerive is under two miles from the sprawling UCLA campus. CBC & The Sweeps is a few blocks away from the beachfront UC Santa Barbara campus.
Got it all sorted out already? Great. Last but not least, check out our checklist for smooth move-in, where we asked Essex community managers from nearly 250 communities across our portfolio to share their top tips for a smooth move-in. Their expert advice spans from what to prepare in the weeks leading up to your move-in day.
Find Your Essex Apartment
Our apartment communities span from San Diego to San Francisco and the Pacific Northwest in some of the most sought-after locations on the West Coast. Whether you're looking for life in Los Angeles, settling down in San Jose, or relaxing in Oakland, we can help. Choose from bustling city life, quiet comfort in the suburbs, sun and sand at the beach, or outdoor adventures and a wide variety of on-site amenities and floor plans that span from studios to two-bedroom apartments to townhomes. Whatever your style and budget, we have a community that's right for you.
Explore our nearly 250 apartments, such as The Village at Toluca Lake in Burbank or Tierra Vista in Oxnard, and learn more about current leasing or move-in specials and pricing.