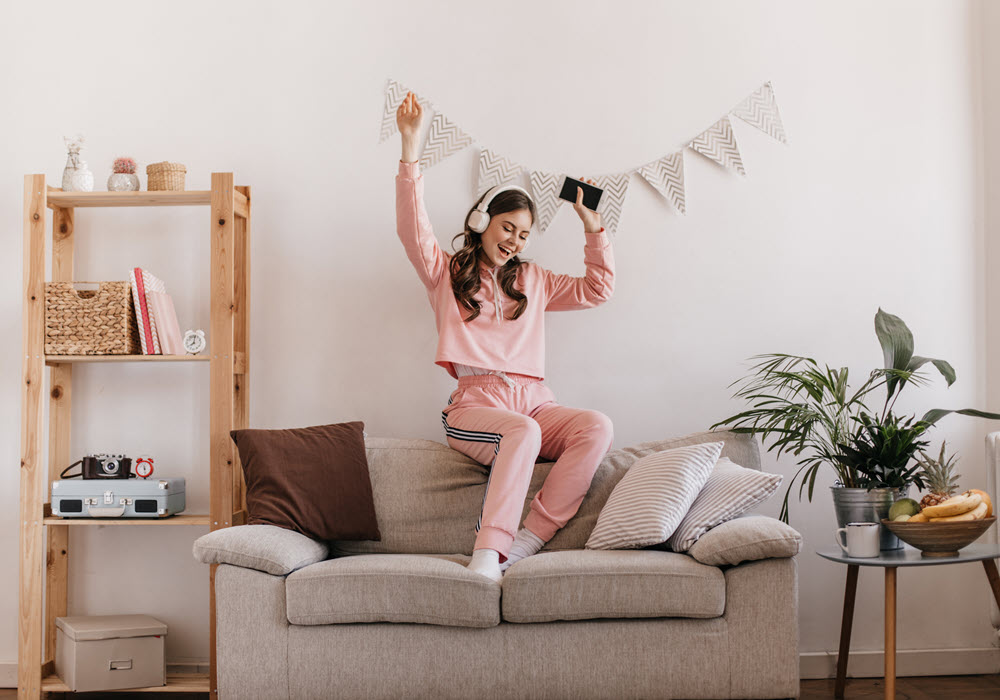 Pros and Cons of Living on Your Own in an Apartment
Whether you're moving out of your parents' house for the first time or entering a new chapter later in life, there comes a time when you may make the big decision to live on your own. Perhaps you've finished college and accepted a job in the city, maybe you want to try solo-living before marriage, or perhaps you and your partner are taking a break. Whatever your current living situation, there are some pros and cons to evaluate before you try living alone for the first time over opting for potential roommates.
What Are the Pros of Living Alone?
There are many benefits of living alone, and many of them center on the simple fact that you can live on your own terms. You have total control when you're the only person in your living space, from decorating and cleaning to house rules and habits. Here is a list of pros.
1. Cleanliness On Your Own Terms
Whether you're a neat freak, borderline hoarder, or somewhere in the middle, living by yourself means you make your own rules when it comes to cleaning and organizing your living space. You can clean on your own schedule and by your own standards and won't feel guilty about leaving your breakfast dishes unwashed if you have to rush out the door. You can also rest assured that your dishes will be the only ones left out, which means no cleaning up after or rising resentment toward messy roommates.
2. Visitors On Your Own Terms
As the only renter, you have total control over who enters your personal space. You don't have to run your visitor by a roommate or have the potential awkwardness of bringing a friend or partner into a home with shared spaces and belongings. Similarly, you don't have to worry about a potential roommate bringing home guests or throwing parties or, worse, inheriting an unwanted roommate when their partner stays over five days a week.
3. You Don't Have to Share
When you share a space with roommates, the lines can start to blur on who owns what and what's off-limits. Your toothpaste or favorite cereal may start to disappear, or your new black cardigan may end up on your roommate's floor. So, one of the benefits of living alone is you don't have to share your belongings with anyone. It also means you don't have to share the bathroom or common areas or wait to use the washer/dryer (unless you live in an apartment complex with a shared laundry room).
4. Privacy Guaranteed
Because you don't have to share your living space, you can truly live on your own terms (with respect to your neighbors, of course). Want to dance in your pajamas in your living room? Need a pint of ice cream and some alone time after a stressful, long day? Have to monopolize the kitchen table with your financial documents during tax time? When living alone, you are welcome to do all those things free of judgment, in the privacy of your own apartment.
5. You Pay For What You Use
You're the only one using and paying for utilities, so you don't risk excessive utility bills from potential roommates who do laundry every day, run the air-conditioning constantly, or forget to turn off the lights. And if you're out of town, you're not paying for utilities you didn't use. If conserving resources or costs is important to you, you are in total control when you live by yourself.
6. Creative Freedom With Space
One of the big perks of solo apartment living is the freedom to decorate, furnish, and organize your living space to your liking. If you have a studio apartment, for instance, you can subdivide and arrange the space to fit your lifestyle. Conversely, if you have a two-bedroom apartment, you can designate that second room as an office, hobby room, or guest bedroom. And the walls, shelves, and countertops are all fair game for your knickknacks and family photos.
What Are the Cons of Living Alone?
Naturally, the cons of solo apartment living will reflect the opposite of the list of pros above. However, depending on your lifestyle and the important aspects to you as a renter, the cons may not be weighed as heavily.
1. Loneliness or Boredom May Strike
Feeling lonely or isolated is one of the biggest drawbacks to a solo living situation. While it may be nice to return to a quiet, empty home after a vacation or at the end of the day, it can be lonely when you're the only person home 24/7. No roommate means no one on-site to cheer you up if you're going through a hard time, celebrate with on a whim, or vent to after a long day.
It also means you're not exposed to the activities, social networks, or resources that potential roommates may bring to the table. In those cases, your apartment complex may offer some suitable social alternatives through amenities like the game room and rooftop terrace at Pacific Electric Lofts or the swimming pool and high-end fitness center at Gas Company Lofts, both in Los Angeles. Similarly, MB360 in San Francisco has a fitness center, swimming pool, clubhouse, and outdoor spaces for renters to comingle and socialize.
2. Chores and Upkeep Are Your Own Responsibility
Although the benefits of living alone mean you can clean on your own terms, and you don't have to share anything, the negative is that you're on the hook for all the chores and household responsibilities. You won't have any roommates to share duties like deep cleaning, taking out the trash, unloading the dishwasher, checking the mail, and more.
3. Living Costs are Generally Higher
You're also on the hook for all apartment expenses. Although you may be conscious about using resources to save money, every utility bill has your name on it. And even if you have a studio apartment, rent generally increases as the number of renters on a lease decrease.
When living alone, you also should consider the regular purchase of household products and the cost of decorating and furnishing an entire apartment. These are things roommates would typically chip in for. Fortunately, there are ways to decorate on a budget and avoid the high upfront costs of furniture, like renting from companies like Fernish.
Should I Live Alone in an Apartment?
Now that you've thought through all the main pros and cons of living alone, you have to decide if it's the right living situation for you. From there, you can evaluate your lifestyle and budget to pick the right floor plan. For some, a studio at an apartment complex with lots of amenities might be the right mix of privacy, budget, and community.
A studio is a one-room apartment (plus bathroom) that combines the bedroom, living room, and kitchen/kitchenette into one open space. Although a studio apartment layout does not include any walls or dividers separating those rooms, there is space for a bed and living and kitchen areas. Actual square footage of a studio apartment varies by region and property, but it's almost always cheaper than a one-bedroom apartment.
Reflecting the aforementioned perks, a studio apartment can be a great option for someone living alone for the first time—big enough to decorate to your style and entertain, but small enough to keep utility bills and cleaning demands low. The cozier space may also help keep feelings of loneliness at bay, especially if your apartment complex has amenities like clubhouses, fitness facilities, and shared workspaces to escape to for new scenery and other signs of life (but who won't leave the toilet seat up).
If you've made the big decision to move out of your current living situation and get your own space, consider a studio apartment at one of Essex's properties in nearly every major city on the West Coast.
Find Your Essex Apartment
Our apartment communities span from San Diego to San Francisco and the Pacific Northwest in some of the most sought-after locations on the West Coast. Whether you're looking for life in Los Angeles, settling down in San Jose, or relaxing in Oakland, we can help. Choose from bustling city life, quiet comfort in the suburbs, sun and sand at the beach, or outdoor adventures and a wide variety of on-site amenities and floor plans that span from studios to two-bedroom apartments to townhomes. Whatever your style and budget, we have a community that's right for you.
Explore our nearly 250 apartments, such as The Village at Toluca Lake in Burbank or Tierra Vista in Oxnard, and learn more about current leasing or move-in specials and pricing.