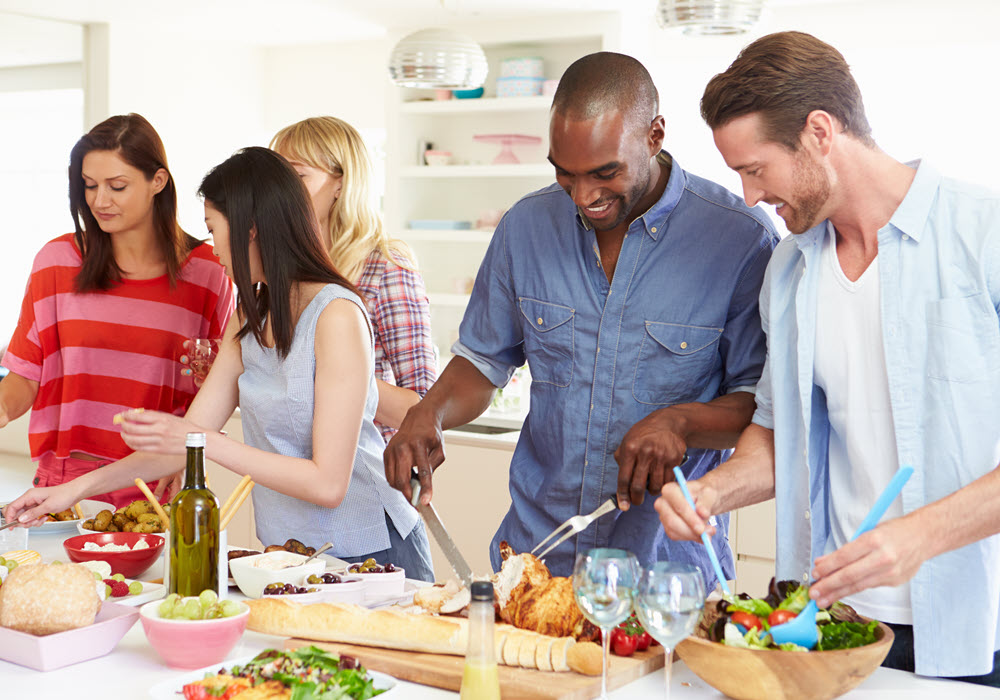 Celebrating Friendsgiving in an Apartment
When the leaves start changing colors, the air gets a bit crisper, and stores start playing Christmas music, it's time to start thinking about your Thanksgiving plans. For folks without family nearby or those who like to supplement the traditional family gathering with a feast among friends, hosting a Friendsgiving celebration is a great way to bring your inner circle together for food and conversation that doesn't involve Aunt Sandra's questions about your relationship status.
Yes, you can host Friendsgiving in a small apartment!
Whether it's a new tradition in your group or 2021 is your turn to host, a successful Friendsgiving party does not require a big house, your entire November paycheck, or even a dining table. It's totally acceptable—and encouraged—to keep it simple and, instead, put the emphasis on bringing your loved ones together. With a bit of strategizing, particularly around the meal and seating, you can host a lovely low-stress Friendsgiving in your apartment home. Read on for some tips, dos, and don'ts.
Tips for Hosting Friendsgiving
Start Planning Early
The sooner you start getting things in order, the less stress you'll feel closer to the big day. It's also important to be detailed and specific as you plan to avoid any mishaps. Consider creating a timeline or schedule and a thorough to-do list to map out the menu, timing, errands, cleaning, and more.
Get Creative
Don't feel locked to the holiday season's standard traditions—and resulting expectations—and instead shake things up at your get-together with a theme party, picnic meal, Thanksgiving Day brunch, ethnic fare, or other unique twists. You can get creative with the décor too, but don't go overboard. Simple touches can have a big impact, and leveraging vertical space (think: a fall garland on the wall) will allow you to maximize your horizontal surfaces.
Make A Guest List—and Stick to It
Given the space limitations in your small apartment, you'll have to be selective on who gets an invitation to your Friendsgiving. Estimate how many bodies you can fit comfortably (with a bit of furniture rearranging) before making a guest list of your closest friends and those who aren't leaving town for the holiday. Don't be too lenient regarding plus-ones and "maybes".
Conduct an Audit
From mixing bowls and garlic powder to silverware and folding chairs, it's important to take stock of all the dinner party supplies you already have. This will help you determine what should go on your list of things to buy, rent, or borrow.
Be Strategic With Your Meal
When putting together your Friendsgiving menu, stick to what you know will be doable in your kitchen with the tools you own and the space you have to work with. If you're going all-in with the traditional turkey, which means a monopolized oven, consider side dishes that can be made on the stove or don't require heat. Opt for your favorite tried-and-true recipes rather than attempting potentially complex new ones if you're straying from the traditional Thanksgiving meal. Or, if you've decided on a potluck, keep track of what people are bringing and make specific requests as needed to avoid duplicates and create diversity on the menu. Also, ask guests for dietary restrictions ahead of time.
Do It in Advance
The more you can check off your to-do list ahead of time will help you avoid mishaps and scrambling on the big day. This is where that timeline will come in handy. Plan out staggered grocery runs for nonperishable and perishable goods, and lock in any third-party support (e.g., order your ham, book cleaners, schedule any rentals). You can even make some of the dishes in advance, such as the pumpkin pie, rolls, cranberry sauce, gravy, and veggie platter. For dishes that need to be cooked on Thanksgiving Day, dice your veggies and portion out the ingredients the night before.
Ask for Help
Just because you're hosting a DIY Thanksgiving dinner, doesn't mean you have to do it all yourself. A potluck is a great way to have everyone chip in or have friends bring those aforementioned kitchen tools and folding chairs you identified you were missing during your audit. On Friendsgiving Day, assign people to bartend, play DJ, carve the turkey, and cleanup.
Maximize Your Space
Most small apartments don't have dining rooms, so in that early planning stage, visualize the ways you can leverage the space and furniture you currently have to fit the most people comfortably while allowing for flow. Don't hesitate to rearrange the furniture in the living room and test out various layouts in advance. Consider pushing furniture against the wall and temporarily moving awkward or nonessential furniture into the bedroom. If you don't have a dining table or want to create space for mingling, drape tablecloths on various flat surfaces for makeshift tables. Don't stress if you don't have enough chairs—Friendsgiving is meant to be intimate. Bar stools, office chairs, ottomans, windowsills, and throw pillows are all acceptable when hosting a dinner party in a small apartment. In the kitchen, clear off the counters as much as possible for food prep and a buffet-style Thanksgiving meal, and clean out the fridge to make room for ingredients, dishes, or a thawing turkey.
Respect Your Neighbors
When hosting any party in an apartment community, it's important to think beyond your four walls. Be respectful of sounds, scents, and traffic coming out of your apartment, and check if your community has set quiet times or guidance around outside guests.
Don't Forget to Breathe—and Enjoy Yourself
If you leave with anything from this list, take this. You've put so much time and effort into planning your ultimate Friendsgiving celebration that it's essential to enjoy what you've accomplished. Thanksgiving Day only comes once a year (for better or worse), so leverage these tips to ensure your get-together is low stress and full of thanks.
Find Your Essex Apartment
Our apartment communities span from San Diego to San Francisco and the Pacific Northwest in some of the most sought-after locations on the West Coast. Whether you're looking for life in Los Angeles, settling down in San Jose, or relaxing in Oakland, we can help. Choose from bustling city life, quiet comfort in the suburbs, sun and sand at the beach, or outdoor adventures and a wide variety of on-site amenities and floor plans that span from studios to two-bedroom apartments to townhomes. Whatever your style and budget, we have a community that's right for you.
Explore our nearly 250 apartments, such as Riley Square in Santa Clara or Regency at Mountain View, and learn more about current leasing or move-in specials and pricing.