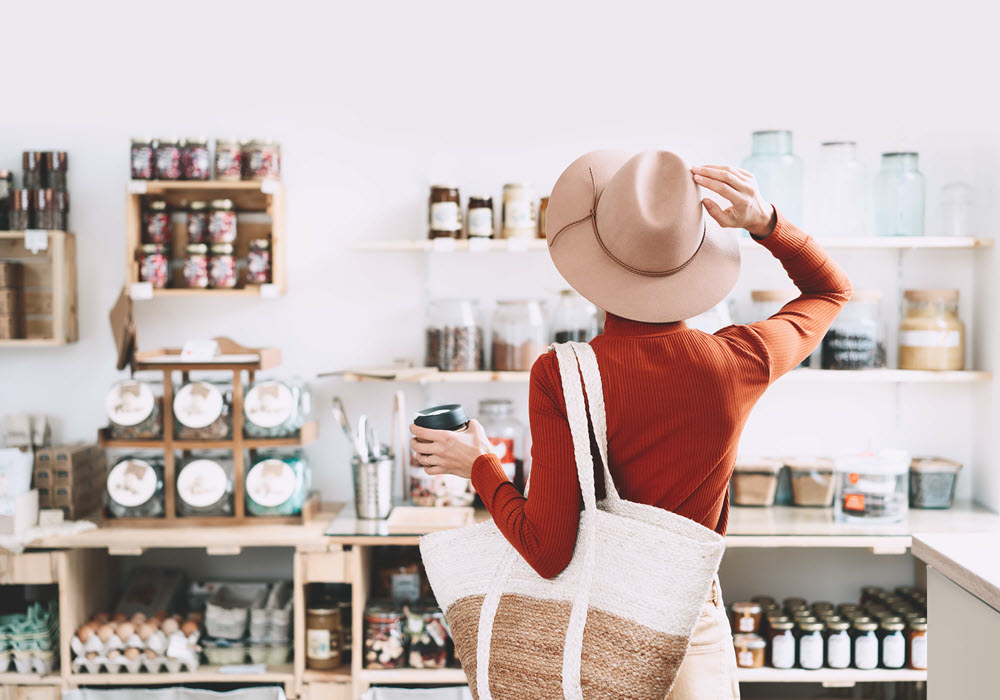 Sustainable Shopping for Your Apartment
Whether you're moving into a new apartment or have decided to step up your sustainable-living game in the New Year, there are many eco-friendly swaps you can make in your home and your lifestyle. No, you don't have to run out and buy new environmentally conscious household goods, but your shopping habits will drive your shift to sustainability. From shopping locally to buying reusable and secondhand products to repurposing and DIY home goods, every step contributes to a more sustainable apartment home. Read our tips below, and then when you're ready to try out the complete zero-waste life, check out our related article.


What Are the Benefits of Sustainability?
Naturally, the greatest benefit of sustainability is for the environment. Adopting sustainable shopping habits, buying sustainable products for your apartment, and implementing sustainable practices at home all help reduce your carbon footprint. Sustainable lifestyle choices and goods can also be healthier for you. Often these practices and products mean using natural materials and ingredients instead of those with potentially harmful chemicals. They may also diminish air pollutants.
Sustainable living can also be easier on your wallet. Avoiding single-use goods and repurposing items or packaging that would otherwise end up in a landfill mean less spending on replacements. Additionally, these adjustments can help you use less energy and water, translating to lower utility bills.
How Can I Be Environmentally Friendly with My Apartment?
1. Kitchen Supplies
Given how much waste is produced and plastic is used in the kitchen, this is the best place to start building your eco-friendly apartment. Consider using bamboo or metal utensils and other accessories instead of plastic ones, such as bamboo spatulas and reusable metal straws. Avoid using single-use plates, cutlery, and food packaging. Several companies have introduced reusable food wraps (in place of plastic wrap) made of beeswax or cloth. Similarly, silicon bags can replace single-use plastic bags, while glass containers make great storage alternatives to plastic containers. You can even repurpose empty glass bottles and mason jars. Regarding food waste, a countertop composting bin is one more way to be sustainable in the kitchen. Dirty paper towels, coffee grounds, and food scraps are some of the most common compostable items. These items actually struggle to decompose in a landfill and instead release methane (a greenhouse gas) into the atmosphere.

2. Cleaning Products
Similar to packaged foods and kitchen supplies, cleaning products often have excessive plastic packaging that is only meant for single-use. Even if the containers are recyclable, they don't always make it to the recycling facility. As such, it's best to ditch the wasteful cleaning products and opt for those with reusable containers. Then, make your own cleaning solutions with one of these DIY recipes. You can also make your own laundry soap or buy eco-friendly detergent pods and dish and dishwasher soap. These eco-friendly versions not only reduce waste but also mean no harmful chemicals in your apartment home. Sustainable cleaning supplies and DIY solutions use natural, non-toxic ingredients.
3. Linens
When shopping for new bedding and towels, consider those made out of sustainable materials, such as organic cotton, bamboo, and eucalyptus. Organic cotton and other natural materials ensure no pesticides were used in production, while bamboo and eucalyptus use less energy and water while being made and are considered more easily replenishable resources. Further, companies like Avocado Green Mattress now offer organic, "climate-neutral" mattresses.
4. Home Décor and Furnishings
Installing contemporary lighting and energy-efficient light bulbs is an easy step you can take toward sustainable living. LED light bulbs specifically can last more than three times longer than standard bulbs and use half the wattage. Although eco-friendly compact fluorescent and LED light bulbs are typically more expensive, they don't need to be replaced as often and help lower your electricity bill. The other big way to upgrade your eco-friendly apartment when shopping for home décor is by repurposing household goods and furniture or shopping secondhand. You are not only preventing gently used furnishings from ending up in the landfill, but also helping to conserve the energy and resources required to produce new ones. ebay, Craigslist, Nextdoor, Freecycle, and Facebook Marketplace are great sites for finding secondhand treasures. Chairish specializes in vintage, secondhand goods, while Fernish offers premium furniture and home décor rental, which is handy if your apartment living situation is short-term. Consider asking friends or family when you need an item, and try donating your furnishings rather than putting them out by the dumpster.

5. Shopping Practices
If it's not clear by now, adopting a sustainable lifestyle is driven largely by your shopping choices. As mentioned, it's important to buy reusable or secondhand goods and avoid single-use products when possible. Further, buying sustainably sourced products means social, ethical, and environmental measures are taken all along the supply chain, giving your efforts greater reach. Shopping local is a great way to reduce your carbon footprint. It not only reduces your emissions related to travel but also means your purchases use less transportation to get to you. If you're shopping in-person, such as at the local farmer's market or furniture consignment boutique, you're also helping reduce the resources required for online shopping, such as transportation, boxes, and plastic packaging. When shopping local, remember to bring your reusable bags; some companies even sell smaller reusable bags for the produce section.
How Do I Find an Apartment That Will Support an Eco-friendly Lifestyle?
Renters prioritizing sustainable apartment living can further their efforts at one of Essex's 35 certified sustainable properties spanning the West Coast. Essex has long committed to supporting sustainable lifestyles and apartments, whether minimizing negative environmental impact through renovations or developing brand-new LEED-certified apartment homes. Aligning with the UN's Sustainable Development Goals, Essex's sustainable apartments and Corporate Social Responsibility strategy focuses on reducing environmental impact through energy efficiency, renewable energy generation, water efficiency, and waste management.
Find Your Essex Apartment
Our apartment communities span from San Diego to San Francisco and the Pacific Northwest in some of the most sought-after locations on the West Coast. Whether you're looking for life in Los Angeles, settling down in San Jose, or relaxing in Oakland, we can help. Choose from bustling city life, quiet comfort in the suburbs, sun and sand at the beach, or outdoor adventures and a wide variety of on-site amenities and floor plans that span from studios to two-bedroom apartments to townhomes. Whatever your style and budget, we have a community that's right for you. Explore our nearly 250 apartments, such as Epic in San Jose or Century Towers, and learn more about current leasing or move-in specials and pricing.